CatRomance Cat Carrier for travel
Want to take your cat out? Whether traveling by car or plane, you're going to need a cat carrier.
What to Consider Before Buying a Cat Carrier?
Choosing the right cat carrier for your needs is most important. CatRomance Pet Carrier is qualified for the work !
Does it keep your cat dry?

 —— CatRomance cat carriers are lined with machine-washable, absorbent removable pads for your cat's comfort.

How many air openings do it have?

 —— Features Anti-scratch mesh netting on the top and all 4 sides, allow maximum accessibility and ventilation for your pet.

Can you carry it easily?

—— There has a padded adjustable shoulder strap and carrying handles. The strap allows the carrier to be restrained with a vehicle seat belt for car travel.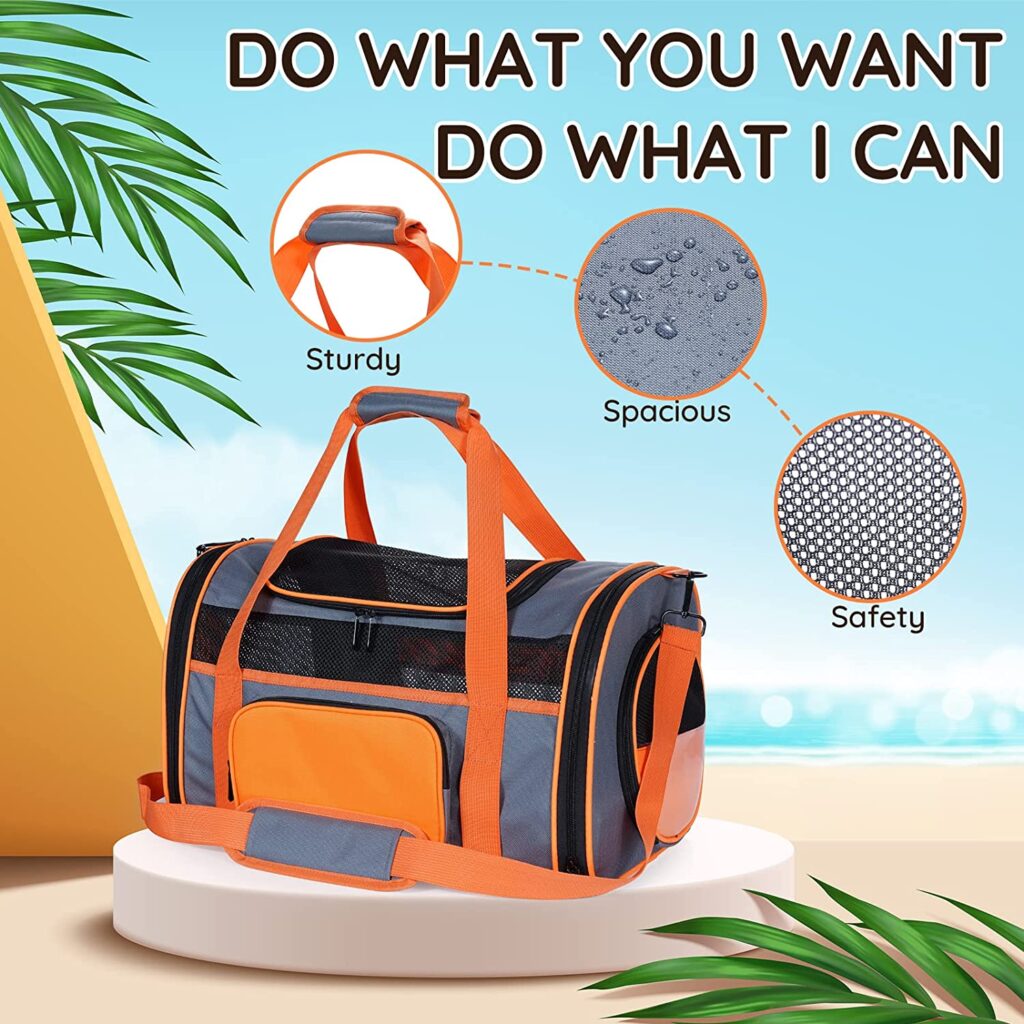 The pet carrier is made of durable oxford which is waterproof and easy to clean, supported by a steel ring which is stable enough to keep its shape for daliy use and travel journey and a machine-washable fleece mat base to provide comfort for travel.
Multiple Openings & Ventilated Windows
The three side entrance and front entrance are designed with anti-scratch solid mesh windows, aiming to keep good air circulation in pet carrier bag and get check of pet's condition anytime.
Sturdy Padded Handle and Adjustable no-slip Padded carrying Shoulder Strap with sturdy hooks are easily carried outside for all people. Collapsible to fit into your luggage or carried with your luggage for trip.
Washable Fleece Mat Soft Surface with Soft Foam Layer & Sopprtive Load-bearing inside, easily removed for dry cleaning or machine-washing. Fleece Mat Soft Pet bed provides comfort throughout the trip.
Airline Approved Cat Carrier
Please measure your pet before purchasing, this pet carrier dimension of 18.1"*11.4"*11.4" is designed for small and medium pets within 15in x 9in x 9in and 20lbs(9kg).
Frequently Asked Questions